Clean Up Your Inbox Now.
Inbox zero is now within reach! Power through thousands of messages in just a few clicks.
"One evening, I gleefully eliminated around 500 e-mails from Yelp, Twitter, Instagram and Kickstarter in a series of satisfying clicks." – Jenna Wortham, NY Times
"I used Mailstrom to get rid of around 22,000 emails in about half an hour. The feeling of satisfaction was huge." – Walt Mossberg, Wall Street Journal
Inbox zero? Now it's easy.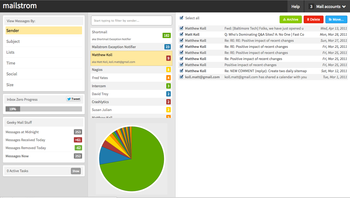 Mailstrom unlocks the patterns hidden in your Inbox to reveal the fastest path to Inbox Zero.
Slice through tens, hundreds, or thousands of emails at once. Use periodically or every day, depending on your mail volume.
We're all about privacy.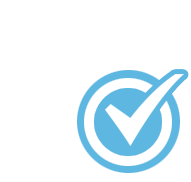 Mailstrom never reads your mails, and only uses message headers to find patterns in your inbox. We will never abuse your trust.
We use industry-leading encryption, and we do not sell your data.
Works wherever you use email.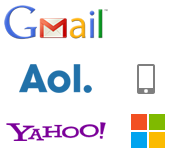 Mailstrom works with your existing email service and lets you keep using your favorite mail tools.
Mailstrom works with Gmail, Google Apps Email, Outlook, Apple, Aol, Exchange IMAP and any other email service that supports IMAP.
Mailstrom Puts You In Control
Unlike "artificial intelligence" algorithms that try to guess what you think is important, Mailstrom is a power tool that amplifies your human intelligence. Mailstrom identifies bundles of related mail, and makes it easy for you to act on them. With Mailstrom, you don't have to worry about missing something important. It's not an algorithm, so don't worry about "false positives" — you are in total control.
Keep Using Your Regular Email
Mailstrom works alongside your existing email tools, so there's nothing new to learn. Use Mailstrom whenever your inbox needs a good cleaning. That might be daily or once every few days, depending on how much mail you get. Mailstrom is all about putting you back in control, and syncs with mobile and desktop email automatically!
Fast and Easy Unsubscribe
Unsubscribe from mailing lists quickly and easily with Mailstrom's Unsubscribe feature. We group all mailing lists together in one place, and you can either unsubscribe from them directly (for lists that support automatic unsubscribe) or use the Move feature to get them out of your inbox forever!
Safe and Secure
Mailstrom analyzes the headers of your email — not the messages themselves. We take your privacy seriously and have used industry-standard security practices to ensure your data stays secure. With Gmail, we use IMAP via OAuth, so we never have your password. For other services, we use high-level encryption to protect any sensitive information.